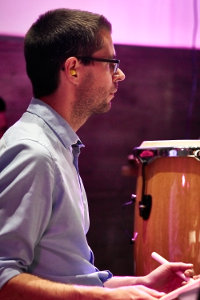 Mainly to recall what happened last year and to give thoughts and to plan for the upcoming year(s) I'm once again revisiting my previous year (previous editions: 2018, 2017, 2016, 2015, 2014, 2013 + 2012).
In terms of IT events, I attended Grazer Linuxdays 2019 and gave a talk (Best Practices in der IT-Administration, Version 2019) and was interviewed by Radio Helsinki there. With the Grml project, we attended the Debian Bug Squashing Party in Salzburg in April. I also visited a meeting of the Foundation for Applied Privacy in Vienna. Being one of the original founders I still organize the monthly Security Treff Graz (STG) meetups. In 2020 I might attend DebConf 20 in Israel (though not entirely sure about it yet), will definitely attend Grazer Linuxdays (maybe with a talk about »debugging for sysadmins« or alike) and of course continue with the STG meetups.
I continued to play Badminton in the highest available training class (in german: "Kader") at the University of Graz (Universitäts-Sportinstitut, USI). I took part in the Zoo run in Tiergarten Schönbrunn (thanks to an invitation by a customer).
I started playing the drums at the »HTU Big Band Graz« (giving a concert on 21st of November). Playing in a big band was like a dream come true, being a big fan of modern Jazz big bands since being a kid and I even played the drums in a big band more than 20 years ago, so I'm back™. I own a nice e-drum set and recently bought a Zildjian Gen16 cymbal set and also own a master-keyboard (AKA MIDI keyboard) for many years, which is excellent for recording. But in terms of "living room practicality", I wanted something more piano alike, and we bought a Yamaha CLP-645 B digital piano, which my daughters quite regularly use and now and then I manage to practice on it as well. As you might guess, I want to make music a more significant part of my life again.
I visited some concerts, including Jazz Redoute, Jazzwerkstatt Graz, Billy Cobham's Crosswinds Project, Jazz Night Musikforum Viktring, Gnackbruch evening with AMMARITE, a concert of the Kärntner Sinfonieorchester, Steven Wilson's To The Bone tour, Sting's My Songs tour and the Corteo show of Cirque du Soleil. I took some local trips in Graz, including a Murkraftwerk Graz tour and a »Kanalführung«.
Business-wise it was the sixth year of business with SynPro Solutions, and we moved the legal form of our company from GesnbR to GmbH. No big news but steady and ongoing work with my other business duties Grml Solutions and Grml-Forensic.
I also continued with taking care of our kids every Monday and half another day of the week – which is still challenging now and then with running your own business, but so absolutely worth it. With a kid going to school, it was quite some change for my schedule and day planning as well. Now having a fixed schedule for most of the days, the Sonos soundbox wakes us up with Ö1 news and its Ö1 signature tune Monday to Friday. Thanks to Pavlovian conditioning, when waking up on Saturdays and Sundays I also hear the Ö1 signature tune in my head while no radio is present then. :)
I tried to minimize my Amazon usage as much as possible and will try to continue doing so in 2020 as well.
I had quite some troubles with my Vespa PX125, hopefully things are sorted out nowadays though. *knockingonwood*
After being ~20 years in the Usenet (mostly de.* + at.* + tu-graz.*) I pretty much gave it up.
Book reading became more of a habit again, and I managed to complete 42 books (see Bookdump 01/2019 and Bookdump 02/2019). I noticed that what felt like good days for me always included reading books, and want to keep my reading pace for 2020.