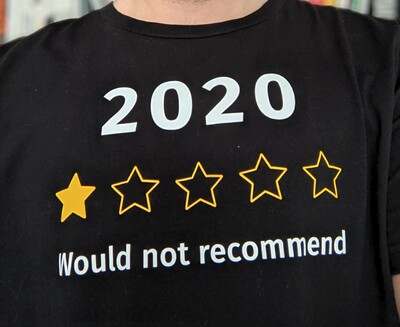 Mainly to recall what happened last year and to give thoughts and plan for the upcoming year(s) I'm once again revisiting my previous year (previous editions: 2019, 2018, 2017, 2016, 2015, 2014, 2013 + 2012).
Due to the Coronavirus disease (COVID-19) pandemic, 2020 was special™ for several reasons, but overall I consider myself and my family privileged and am very grateful for that.
In terms of IT events, I planned to attend Grazer Linuxdays and DebConf in Haifa/Israel. Sadly Grazer Linuxdays didn't take place at all, and DebConf took place online instead (which I didn't really participate in for several reasons). I took part in the well organized DENOG12 + ATNOG 2020/1 online meetings. I still organize our monthly Security Treff Graz (STG) meetups, and for half of the year, those meetings took place online (which worked OK-ish overall IMO).
Only at the beginning of 2020, I managed to play Badminton (still playing in the highest available training class (in german: "Kader") at the University of Graz / Universitäts-Sportinstitut, USI). For the rest of the year – except for ~2 weeks in October or so – the sessions couldn't occur.
Plenty of concerts I planned to attend were cancelled for obvious reasons, including the ones I would have played myself. But I managed to attend Jazz Redoute 2020 – Dom im Berg, Martin Grubinger in Musikverein Graz and Emiliano Sampaio's Mega Mereneu Project at WIST Moserhofgasse (all before the corona situation kicked in). The concert from Tonč Feinig & RTV Slovenia Big Band occurred under strict regulations in Summer, as well as Elektra Opera by Richard Strauß in a very special setting (only one piano player instead of the orchestra because of a Corona case in the orchestra) in Autumn. At the beginning of 2020, I also visited Literaturshow "Roboter mit Senf" at Literaturhaus Graz.
The lack of concerts and rehearsals also severely impacted my playing the drums (including at HTU BigBand Graz), which pretty much didn't take place. :(
Grml-wise we managed to publish release 2020.06, codename Ausgehfuahangl. Regarding jenkins-debian-glue I tried to clarify its state and received some really lovely feedback.
I consider 2020 as the year where I dropped regular usage of Jabber (so far my accounts still exist, but I'm no longer regularly online and am not sure for how much longer I'll keep my accounts alive as such).
Business-wise it was our seventh year of business with SynPro Solutions GmbH. No big news but steady and ongoing work with my other business duties Grml Solutions and Grml-Forensic.
As usual, I shared childcare with my wife. Due to the corona situation, my wife got a new working schedule, which shuffled around our schedule a bit on Mondays + Tuesdays. Still, we managed to handle the homeschooling/distance learning quite well. Currently we're sitting in the third lockdown, and yet another round of homeschooling/distance learning is going on those days (let's see how long…). I counted 112 actual school days in all of 2020 for our older daughter with only 68 school days since our first lockdown on 16th of March, whereas we had 213(!) press conferences by our Austrian government in 2020. (Further rants about the situation in Austria snipped.)
Book reading-wise I managed to complete 60 books (see "Mein Lesejahr 2020"). Once again, I noticed that what felt like good days for me always included reading books, so I'll try to keep my reading pace for 2021. I'll also continue with my hobbies "Buying Books" and "Reading Books", to get worse at Tsundoku.
Hoping for vaccination and a more normal 2021, Schwuppdiwupp!