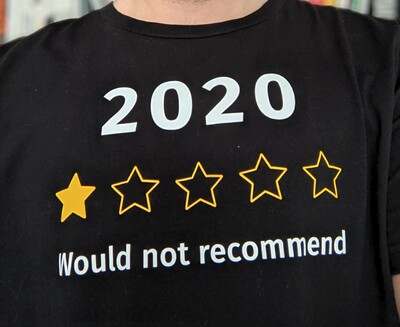 Uhm yeah, so this shirt didn't age well. :) Mainly to recall what happened, I'm once again revisiting my previous year (previous edition: 2020).
2021 was quite challenging overall. It started with four weeks of distance learning at school. Luckily at least at school things got back to "some kind of normal" afterwards. The lockdowns turned out to be an excellent opportunity for practising Geocaching though, and that's what I started to do with my family. It's a great way to grab some fresh air, get to know new areas, and spend time with family and friends – I plan to continue doing this. :)
We bought a family season ticket for Freibäder (open-air baths) in Graz; this turned out to be a great investment – I enjoyed the open air swimming with family, as well as going for swimming laps on my own very much, and plan to do the same in 2022. Due to the lockdowns and the pandemics, the weekly Badminton sessions sadly didn't really take place, so I pushed towards the above-mentioned outdoor swimming and also some running; with my family we managed to do some cycling, inline skating and even practiced some boulder climbing.
For obvious reasons plenty of concerts I was looking forward didn't take place. With my parents we at least managed to attend a concert performance of Puccinis Tosca with Jonas Kaufmann at Schloßbergbühne Kasematten/Graz, and with the kids we saw "Robin Hood" in Oper Graz and "Pippi Langstrumpf" at Studiobühne of Oper Graz. The lack of concerts and rehearsals once again and still severely impacts my playing the drums, including at HTU BigBand Graz. :-/
Grml-wise we managed to publish release 2021.07, codename JauKerl. Debian-wise we got version 11 AKA bullseye released as new stable release in August.
For 2021 I planned to and also managed to minimize buying (new) physical stuff, except for books and other reading stuff. Speaking of reading, 2021 was nice — I managed to finish more than 100 books (see "Mein Lesejahr 2021"), and I'd like to keep the reading pace.
Now let's hope for better times in 2022!