Update on 2008-05-22: check out http://blogs.sun.com/GullFOSS/entry/announcing_the_sun_presenter_console – the presenter-screen extension is available for current OpenOffice 3.0 beta version now (thanks for pointer to Stefan Weigel)
Besides some other issues (not being relevant for the topic I'm blogging about) OpenOffice Impress ("the Powerpoint of the free Office suite") has one major drawback: lack of reasonable dualhead support.
At the end of year 2006 Philipp Lohmann blogged about OpenOffice's "Multimonitor support for the slideshow". That's just basic multimonitor support and has NOTHING to do with the real dualhead presentation mode you might know from tools like MS Powerpoint (multimonitor support – known as "Referentenansicht" in german locales) or Apple's Keynote. It just provides the possibility to send your presentation to one specific monitor or span the presentation on all available monitors – completely useless for me. You can find several bugreports/wishlists in the oooforum.org regarding the dualhead feature as well.
Thanks to pointers by Stefan Weigel and Rene Engelhard I could figure out the current and upcoming support of dualhead presentation mode in OO. The presenter screen feature is implemented as an OO extension. The extension doesn't work with the current stable version (2.4) and it crashes when trying to install it using the current beta release (3.0.0-beta). Therefor I gave it a try with OO version 2.3.233 from wiki.services.openoffice.org and the according presenter_screen_Win32Intel.oxt extension. To activate the dualhead feature you just have to set "Monitor 2" as your main presentation screen inside the presentation preferences. That's what you'll get then: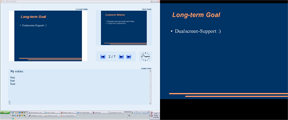 I've tested it on Linux too (using the installation files from wiki.services.openoffice.org as well): works like on Windows.
What I don't like at the current implementation of the presentation mode (besides the fact that it's a bit unstable of course):
I can't edit notes and slides on the fly while running the presentation (for fixing typos, adding additional notes and content,…)
only ONE upcoming slide is available on the presenter screen; I'd like to get some of the last few slides as well as some MORE upcoming slides – this should be at least configurable (and I couldn't find such a configuration setting so far)
such an important feature shouldn't be an extension but instead become a feature shipped by default
I've to restart OO after plugging in the external monitor to get the multihead option inside the preferences menu of OO Impress – this should work on-the-fly
Let's see what we'll get with OO version 3.0.