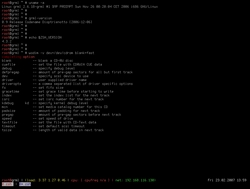 $ irssi
/server VCG
/join #vc-graz
.. and you can talk on Worfs IRC server in VC Graz. Of course some other IRC servers are available too. Or run:

$ VPNUSERNAME=123 VPNPASSWORD=abc grml-pptp-vcgraz
and you have a PPTP connection in VC Graz. Run:

$ grml-x =wmi
and you'll get a XF86Config-4 and WMI starts up. Of course you can choose between ion (ion2 and ion3), wmaker, fluxbox, twm and wmi as a window manager. More than 1600 packages will be included in release 0.1. Some screenshots are available online too.