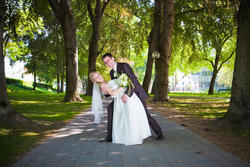 4489 days later we did it, on 21st of May Marianne and I got married.
Turned out it became a pretty geeky marriage, as Grml 2011.05-rc1 with codename "Just Mari" was released during the ceremony (thanks guys!), I had to solve a nice groom quiz and our event had its own hashtag on twitter.
Thanks to everyone making the day unforgettable for us.