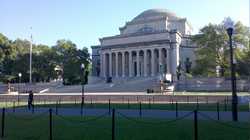 Finally I'm back from DebConf10 in New York. It was the first DebConf I attended and it was just great. Thanks a lot to all involved people for making DebConf such a great event.
I had a big todo list for DebCamp and DebConf and managed to get a bunch of work done. Besides several discussions, bug hunting, testing stuff and attending BoFs and talks the work that I could get done for Debian included:
sponsored upload of:

pyneighborhood
md5deep
grokevt
kpicosim
shunit2
mpris-remote

uploaded new version of stressapptest (required some build tuning)
prepared new upload of tct
fixed RC bugs:

#587557 – problems installing plymouth
#591257 – stressapptest: FTBFS on sparc: configure: error: sparc is not supported!
#589836 – mdadm: breaks initramfs on fresh (chroot) installation
My talk about "State of Debian (based) Linux live systems in 2010" went pretty well according to the feedback I got (thanks for that), even though OpenOffice failed horrible once again (one completely broken line on one slide, several broken gradients on several slides in presentation mode, the presenter screen just didn't work at all,…). I just uploaded the slides of my talk (8.4MB, PDF), though they won't be useful without the talk – but thanks to the awesome videoteam my talk is available as recording.
On the next weekend (August 21st/22nd) you can meet me at FrOSCon/Germany where I'll be at the Grml booth and giving a talk titled "Gute Open-Source-Projekte bestehen aus mehr als nur Code" (english: Good open source projects are more than just code).
BTW: What's a wiki? Say whaaaaaat?</insider>