Real Life
Name:
Michael Prokop
Birthday:
29 of August
Birthplace:
Klagenfurt
Residencies:
Graz, Klagenfurt, Viktring
Nationality:
Austria
Creed:
unbaptized
Specialities(?):
vegetarian, left-hander

Education

1986-1990
elementary school Annabichl in Klagenfurt
1990-1994
"BRG II Mössingerstraße" in Klagenfurt
1994-1998
"BRG - Musikgymnasium Viktring"
1998-1999
military service at "Militärmusik Kärnten" and school leaving examination at "Abendschule für Berufstätige"
1999-2000
study of musicology and cultural administration at KF Uni-Graz
2000-2001
study Informationsmanagement at FH-Joanneum
since 2001
study of "Information and Communications Technology" (known as Telematik) at TU Graz (for german information about the term "ICT" have a look here)
since 2005
study of "Informatics at TU Graz
---
Computer-Life
Current Projects
Hardware
| | |
| --- | --- |
| Processor | Intel Pentium 4 2.40GHz Sockel-478 boxed, 200MHz FSB, 512kB Cache; HyperThreading |
| Motherboard | Gigabyte 8KNXP |
| RAM | Infineon DIMM 256MB PC3200 DDR CL3 (PC400) |
| Harddiscs | SAMSUNG SP1614N, Maxtor 6Y120P0 |
| Monitor | Samsung Syncmaster 191T TFT - 19" |
| Operating System | Debian GNU/Linux - unstable, Kernel 2.6.x |
| Graphicscard | Sapphire Atlantis Radeon 9600, 256MB DDR, DVI, TV-out, AGP |
| TV-Card | Hauppauge WinTV Express (751) [Chip 878] |
| Chassis | Chieftec Dragon DX-01BD (CS-601) |
| Printer | Samsung ML-1510 |
| Fans | Papst 8412N/2GL Lüfter, 80x80x25, 1500rpm, 33m³/h, 12db(A) |
| Power supply | Chieftec HPC-360-202, 360W |
| DVD-ROM | TOSHIBA DVD-ROM SD-M1712 |
| DVD-Burner | PIONEER DVD-RW DVR-107D |
| Keyboard | Happy Hacking Keyboard Lite 2 |
| Mouse | Logitech MX 310 |
Why that much power? -> grml.
Psion Revo Handheld (currently out of office)
for details have a look at the Psion-Homepage -> www.psion.com/revoplus/ or my (german) Psion-Webpage.
Canon PowerShot A20 Digitalkamera
for details have a look at my "Kamera-Seite" at "Gallery" (german!)
Software
I'm using the operating systems Linux, QNX, FreeBSD and sometimes even Plan9. I'm an aficionado and advocator of CLIs (commandline-tools) and like powerusing.
I love the Zsh.
---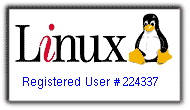 I am registered Linux-User 224337.
Since November 2003 I have my own weblog (blog). I use my blog for brainstorming, documentation and communication with friends.
---
Work
I'm expert on GNU/Linux Debian systemadministration, analyzing systems and live-cd technologies. I'm building optimized and adjusted live-cds with grml-solutions.
Since 2003 I am one of the main organizers of Grazer LinuxTage. You can also find me in the committee of OS04.
Since February 2002 I am working at the "Institut für Unternehmungsführung und Organisation (UFO)" at technical university graz as IT-Administrator and assistant for studies.
Since 1999 I am working as IT-Administrator (network management and homepageadministration) of "WIST-Heim " at Wienerstraße 58a.
Free time
I am member of "Erster Kärntner Trommelkorps St. Veit an der Glan". There we are about 20 drummers.
I a member of Linux-User-Group-Graz.
I am founder and active member of Security Treff Graz (STG). At STG we are meeting at least once a month and talk about topic "security". For more information about STG have a look at the homepage of STG (german).
References
Webdesign
I've created some websites for small companies and I'm also responsible for the redesign (code-improvement, optimisation for search-engines, removal of design-/layouterrors) of some websites (URLs available on request only).
Computer
Lectures on grml on Linuxdays Graz, Vienna, Chemnitz, OS04,...
WCM - release 199: "UNIX Kommandozeilentools in der Praxis" (vim, mutt, screen, cicq, slrn,...) - article, 5 pages
Lectures on 'Linux Kernel 2.6 - und nun?' and 'Using the power of Google - elgooG' and workshop on 'Using the power of texttools - texttools++' [together with Sven Guckes] on Grazer Linuxdays 2004.
Lecture on texttools at Unix/Linux on Grazer and Klagenfurter Linuxdays 2003.
Drums
Performances at Kamot (Klagenfurt), concert hall Klagenfurt, Porgy and Bess - jazzpub (Vienna), austrian contest in Salzburg (1st place), and at many other events
Musician at "music school Big Band Klagenfurt" und "Jazzensemble Musikgymnasium Viktring", Bandleader of R.O.M., 12 months aktiver Military musician, temporary jobs at different bands
Musicology
Scientific paper about Richard Strauss´ "Tod und Verklärung" and Gustav Mahlers "Das Lied von der Erde" for Jeunesse Graz during the project "Baustelle Konzert".